As a romantic couple visiting the city or as a destination wedding photographer you surely scouted for the best locations for photography in Venice, Italy. Here is a list with our top 15 best locations for a couples' photo shoot in the most romantic city on earth.
Even if we did a serious number of photo shoots in this city, I must say that Venice is so full of surprises. With every new photo shoot we try to approach new spots and angles. And still I can say that Venice is place to be discovered.
Top best 15 locations for couple photo shoot in Venice
All the below pictures are taken by us (©Cristian Mihaila Photography).
1. San Marco Square (italian: Piazza San Marco)
Without a doubt the most iconic place in Venice is St Mark's Square and all its edifices. All our photo shoots start or end in this place. It is so iconic that everybody should go home with at leas t one memorable picture from the most attractive location in Venice.
In the evening restaurants and cafeterias from Sant Mark Square offer live classical music. The atmosphere is beautiful!
In case you ever wondered, the lights in Piazza San Marco turn on at 20:00  If you inttend to make a wedding photo shoot in the evening don't miss it, it looks amazing!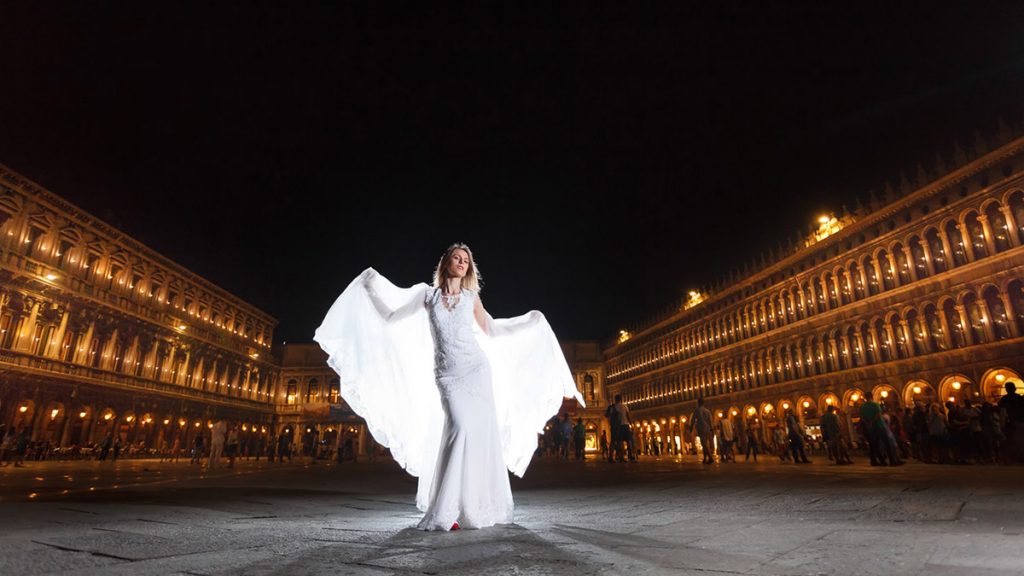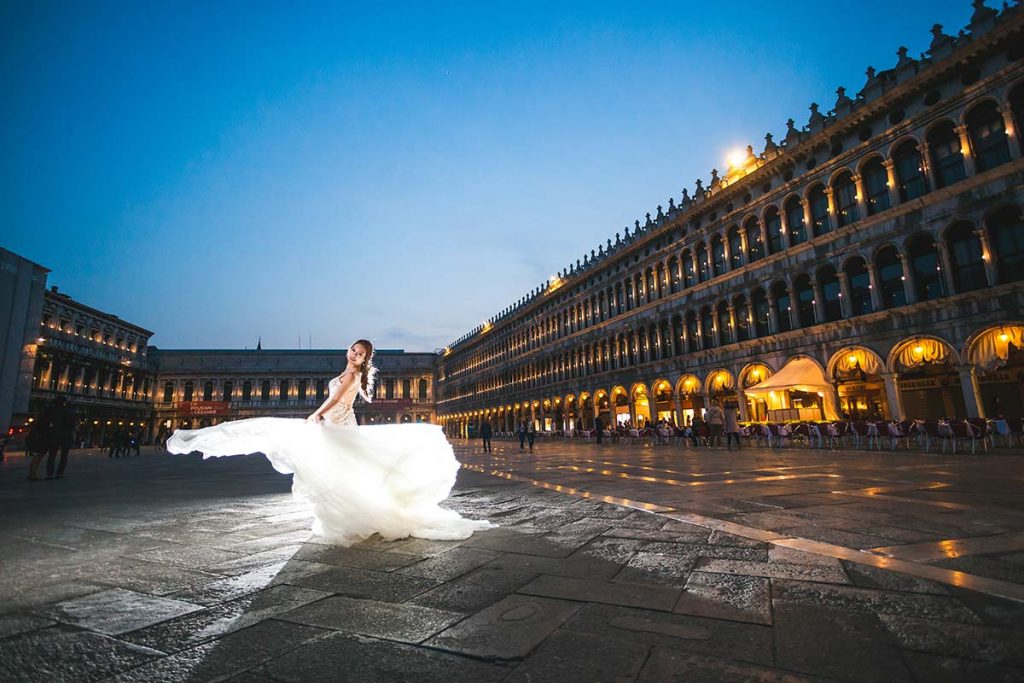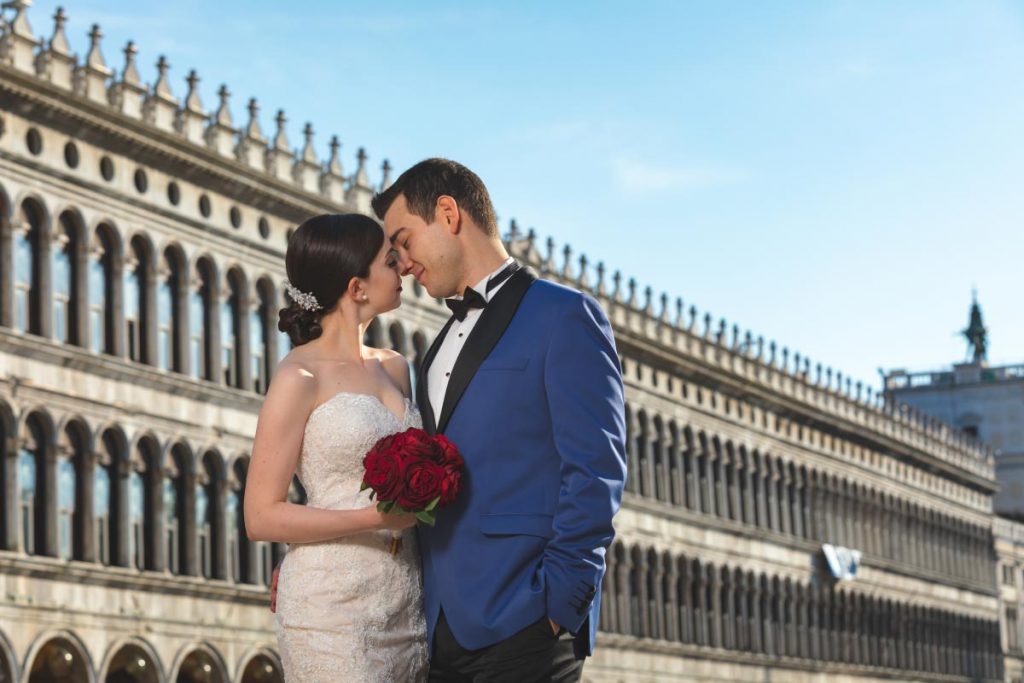 2. St Mark's Basilica (italian: Basilica San Marco)
Taking pictures in front of St Mark's Basilica is quite challenging because of the crowd.
Consider that Venice receives 30 million visitors a year and of course all of them arrive here in most attractive part of the city.
San Marco Square is crowded in any season or weather conditions. So, unless you schedule an early morning session, don't set high expectations to be alone in the pictures
3. Doge's Palace (italian: Palazzo Ducale)
Not far away, still in San Marko square is situated The Doge's Palace.
You can take pictures with the external part of the building.
It is forbidden to take photographs or to film within the museums. We searched the Visit Regulation for you.
4. Bell tower Saint-Mark (italian: Campanile in piazza San Marco)
Originally built as a lighthouse to assist navigation in the lagoon, the St Mark's Campanile is the highest construction in the area.
You can use it as an anchor point in your images.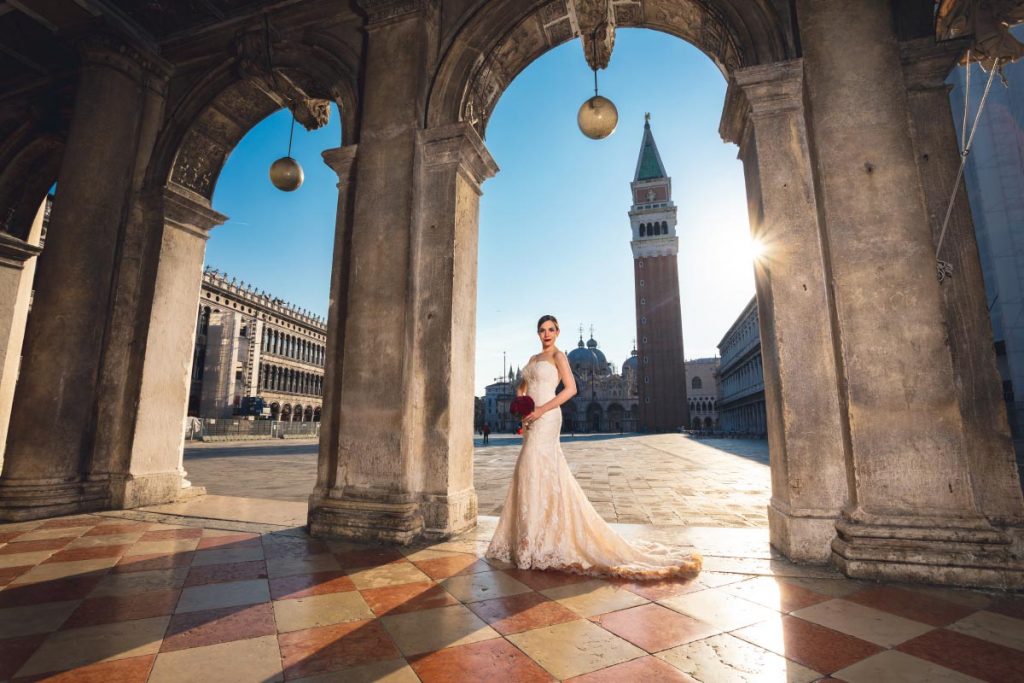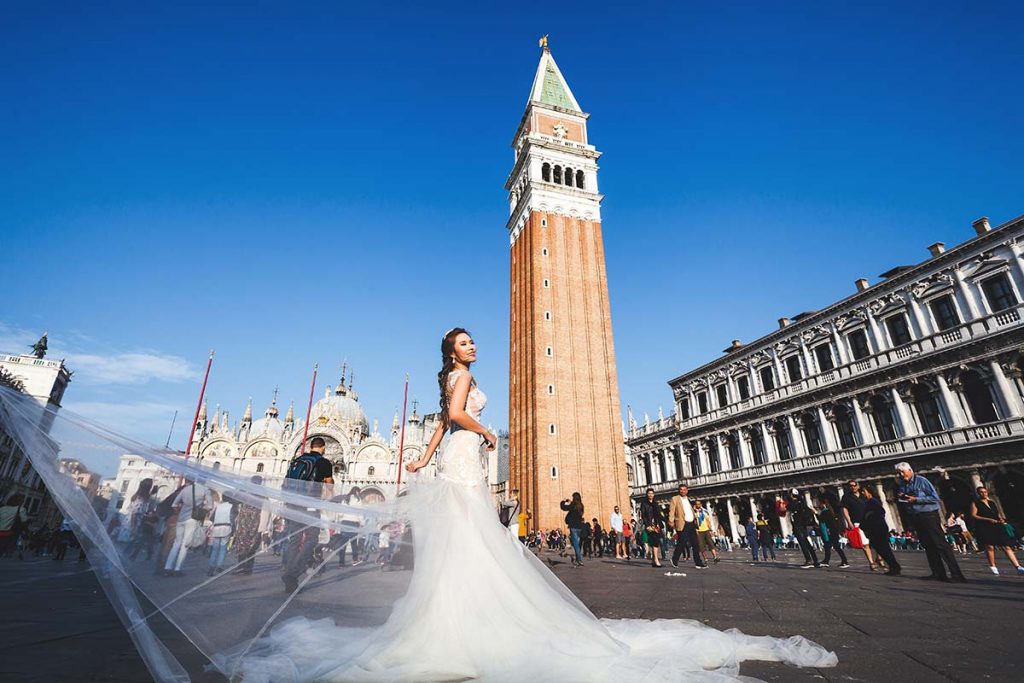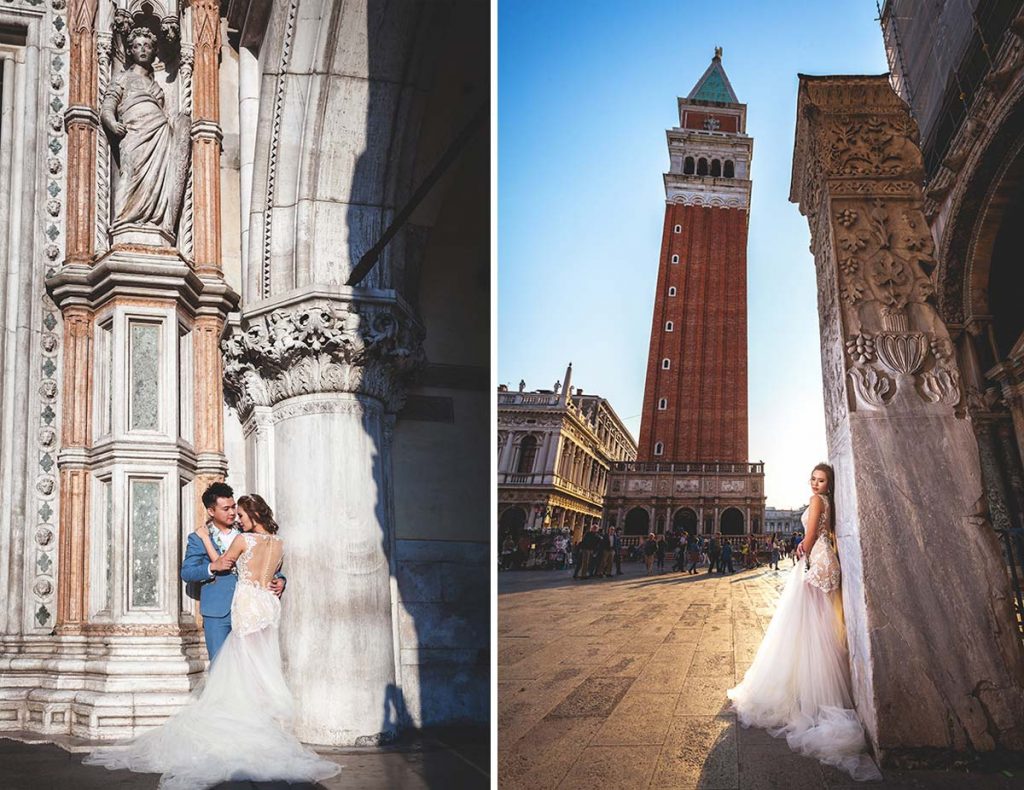 5. View to San Giorgio Maggiore
The orientation of the city doesn't allow you to see the sun at the sunset, but still, the sweet light over the opposite buildings is amazing.
If you want to take the pictures with direct sun, you should schedule the photo shoot at sunrise. It's definitely worth it! Not only you will have a great light, but also early morning is the only moment when the major touristic points in Venice are not so full of people.
6. Caffè Florian
Caffè Florian was established in Venice in 1720. It is the oldest café in the world, as their site affirms. The Florian Florence is a fine dining restaurant and a museum of contemporary art. Take a moment to relax, enjoy a coffee and make some great pictures.
7. Gondola ride
You should absolutely try a traditional ride with gondola. You can choose a short ride (30 minutes) that could start for example at Orselo point, then go to Rialto Bridge and back. Or you can choose a long ride (almost 1 hour) and in this case the 'gondoliere' will help you to discover some new perspectives over the city.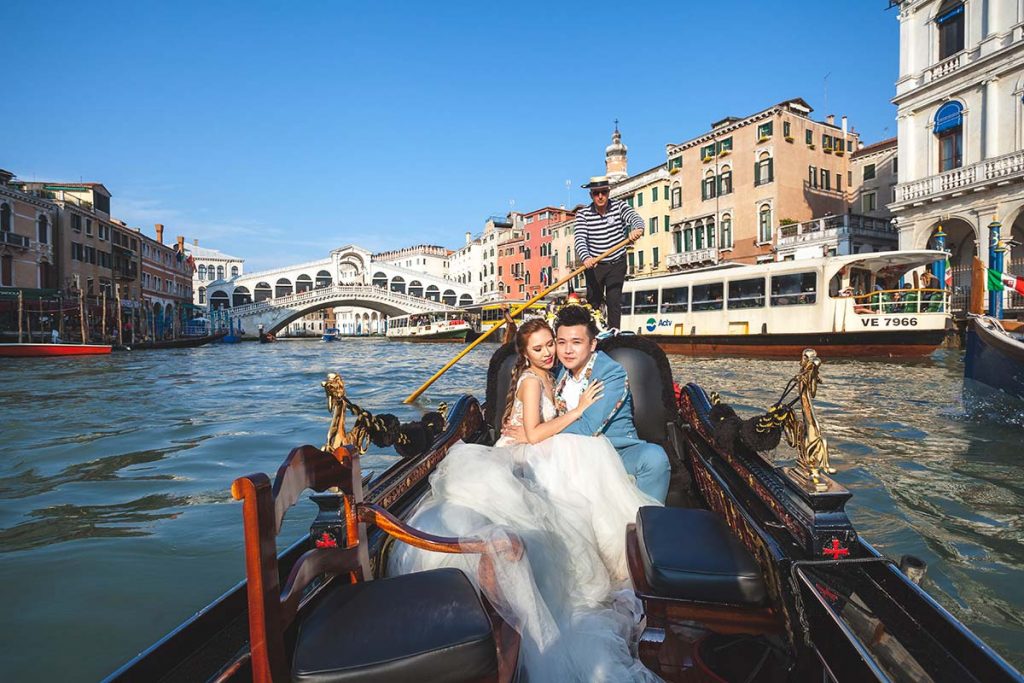 9. Canals
Even a simple walk in venice along the canals could offer the occasion to take amazing pictures.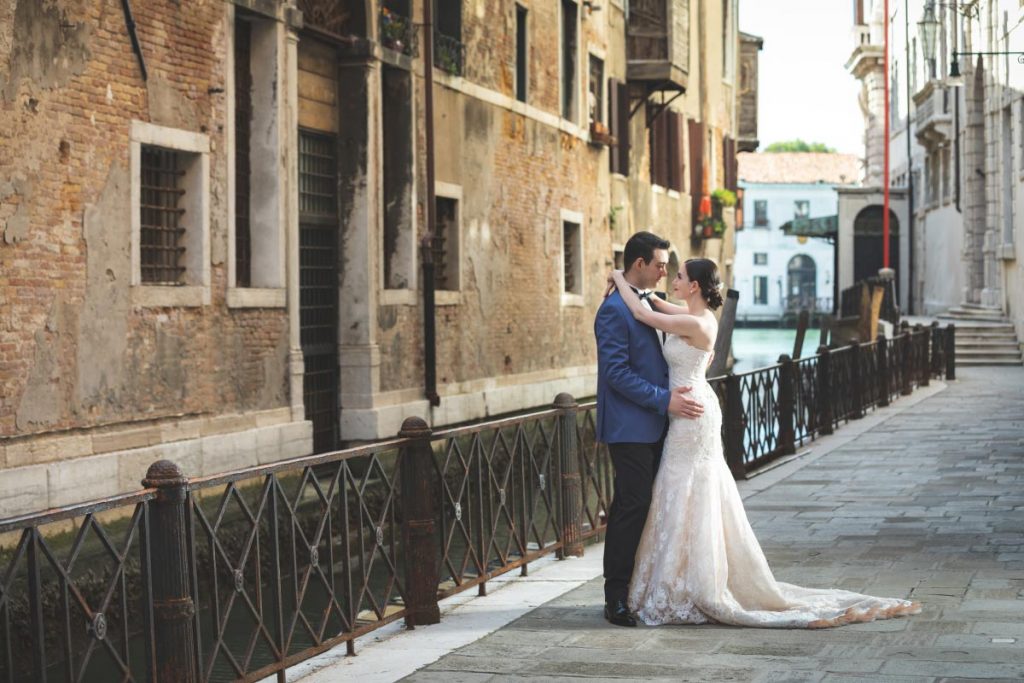 10. Bridges over venetian canals



11. View over Grand Canal from one of the buildings near by
If you have access in any of the buildings over the Grand Canal, don't miss the chance. This photo is taken from the balcony of the City Hall, Palazzo Cavalli, during a wedding with civil ceremony.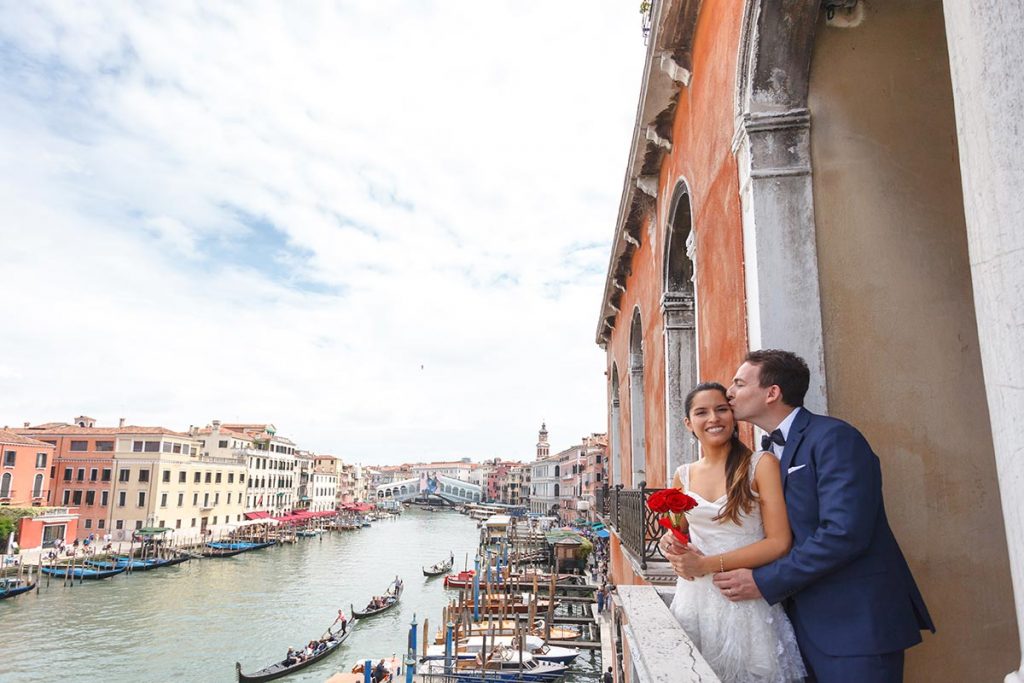 12. Some random squares (italian: Piazza)
Look! Just a simple random square in Venice, nothing fancy. But still  in the same strong venetian style.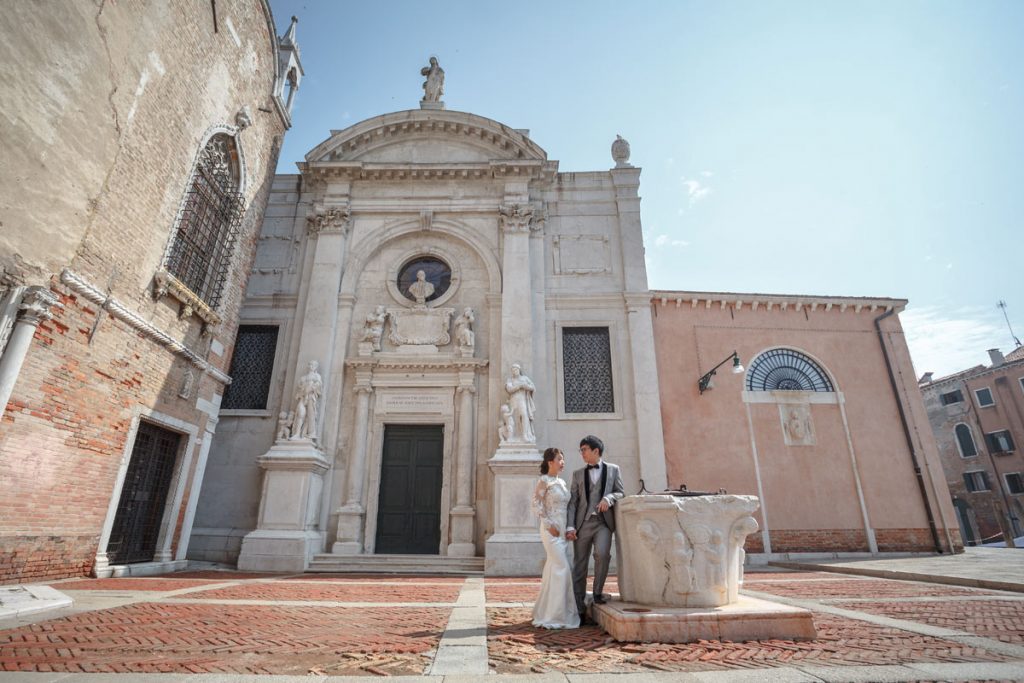 13. Charming random buildings in the city
In Venice you will remark the same care of the Italian people in maintaining the aspect in the historical centers. In Italy, by law, nobody is allowed to alter the aspect of the buildings or any point of interest.
We have been living in Italy for about five years and every time we visit a city or even small villages we are impressed with the respect italian people have for the past and tradition.
This is probably Italy's main strong point as far as tourism is concerned.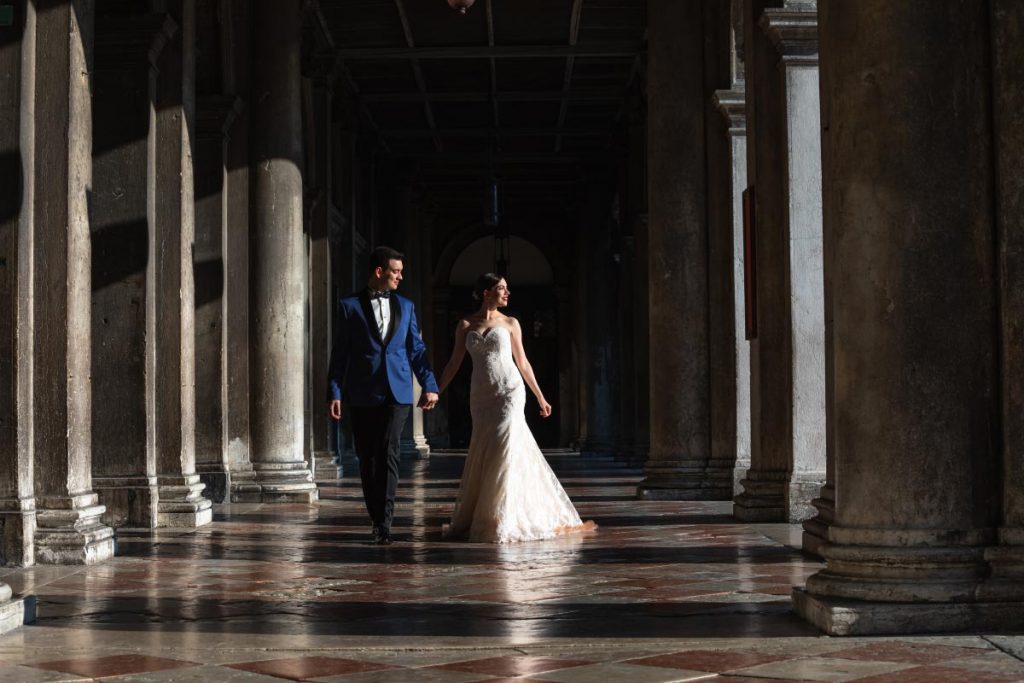 14. Impressive doors as background
If you have the opportunity to scout the city on foot, you will surely see the buildings or churches with impressive doors. Just stop for a minute and take a shot of your couple.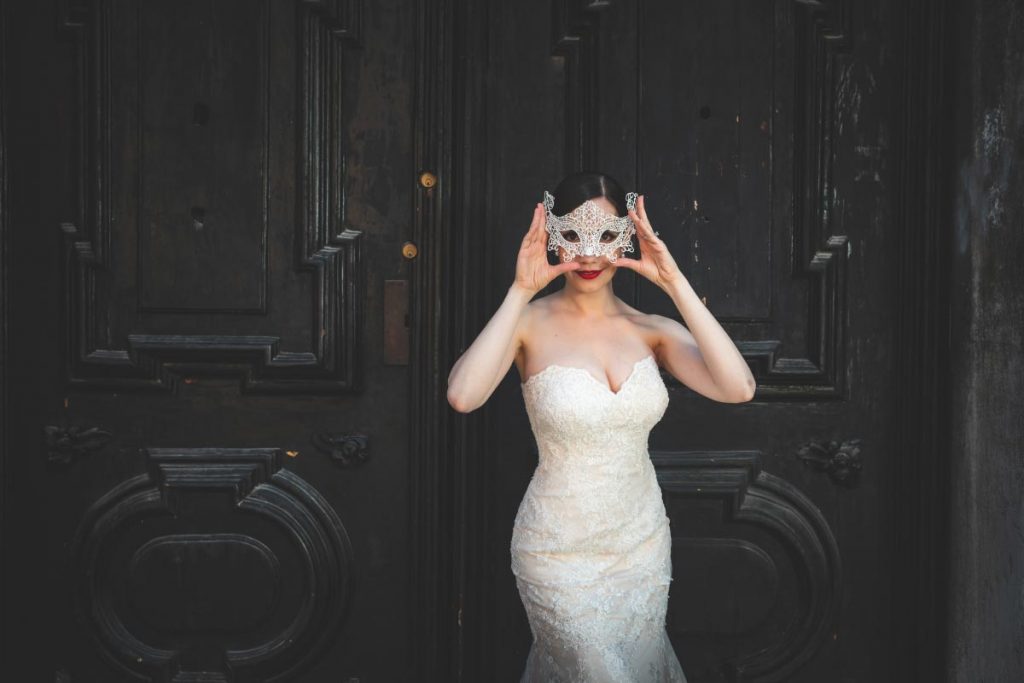 15. Norraw streets in Venice
"The best way to discover Venice: just go away from the crowds, put away your maps, take all the long narrow alleyways[…]  and let yourself get lost." You will enjoy it!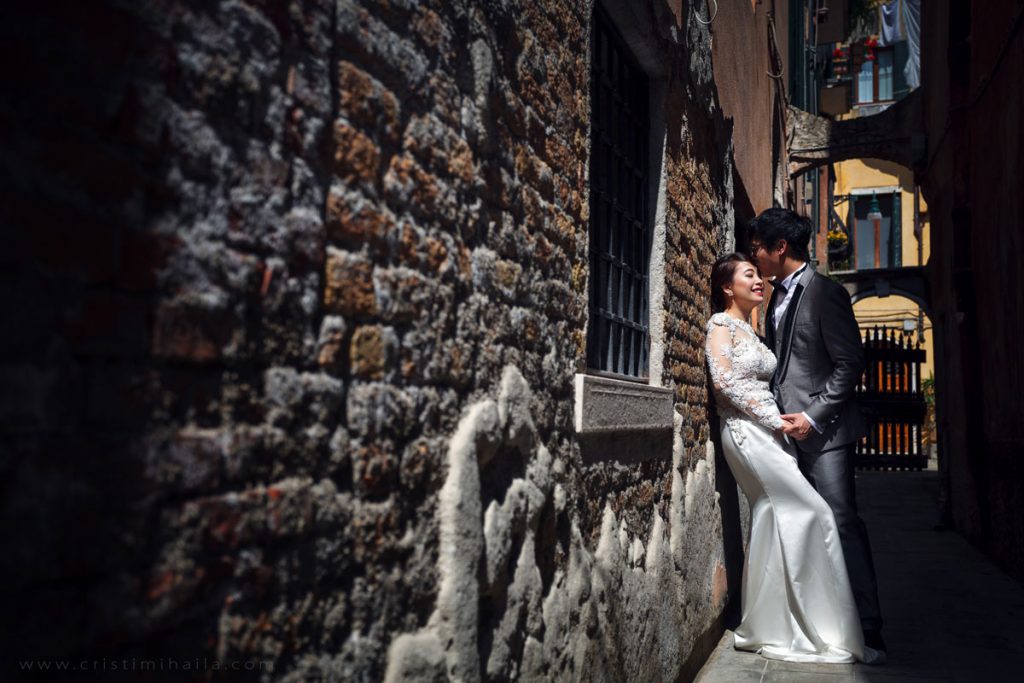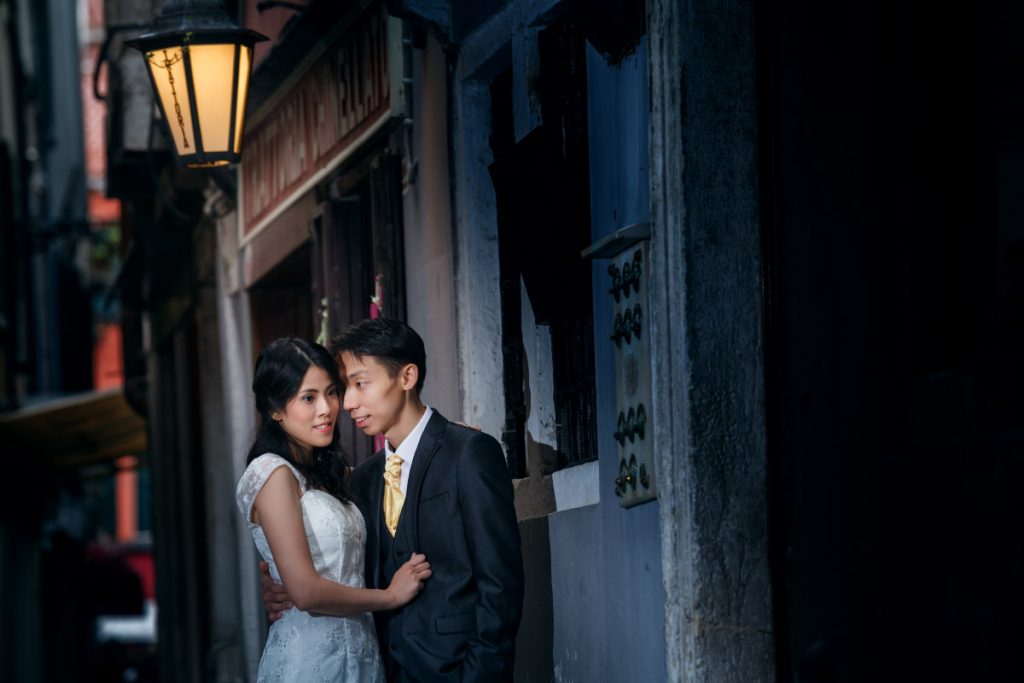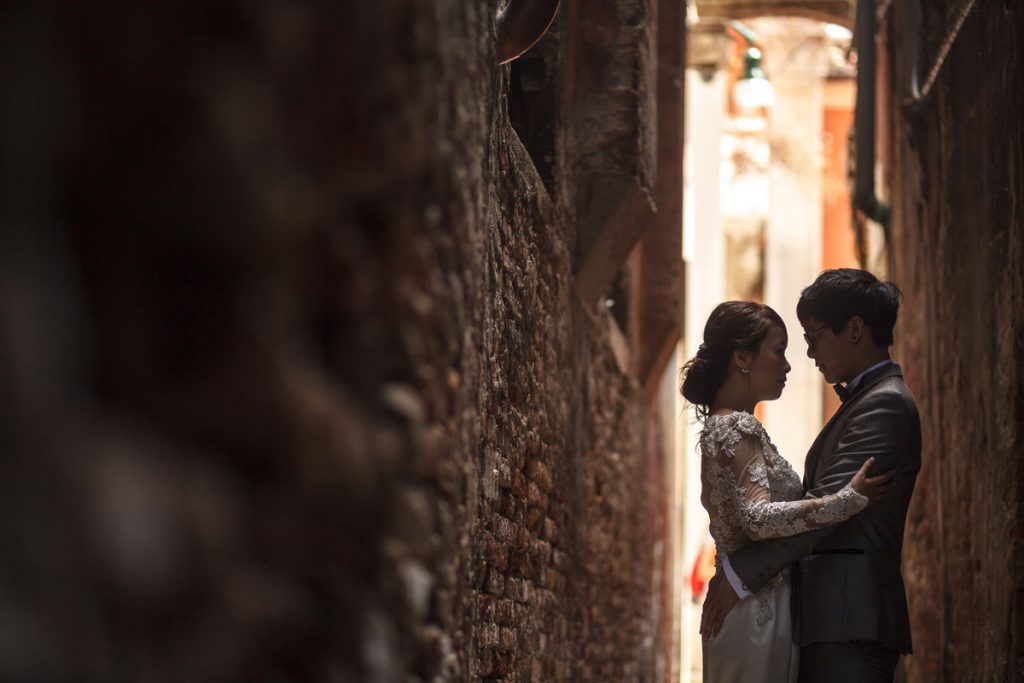 Conclusion: Venice is a unique place, one of the most romantic cities in the world. As a wedding photographer, the main goal is to photograph maily the persons. Just enjoy the atmospere! Every corner of Venice helps to make amazing pictures.Do you think to do a photo session in Venice, Italy? Contact us now, and together we will take pictures in these great photo locations, or why not, discover new ones. For more information about packages you con visit our page Packages for photo shoot in Venice, Italy.
Did you find our article useful? Or you have some new ideas for locations for a couple photo shots in Venice? Let us a comment! Your feedback will be very much appreciated.