Today we are proude to present you a stylished pre wedding photo shooting in Venice for a very handsome couple.
The tour started from the hotel
Albergo Cavalletto & Doge Orseolo
where they were accommodated. We started to shoot right as we meet, we noticed the the small bridge over the canal.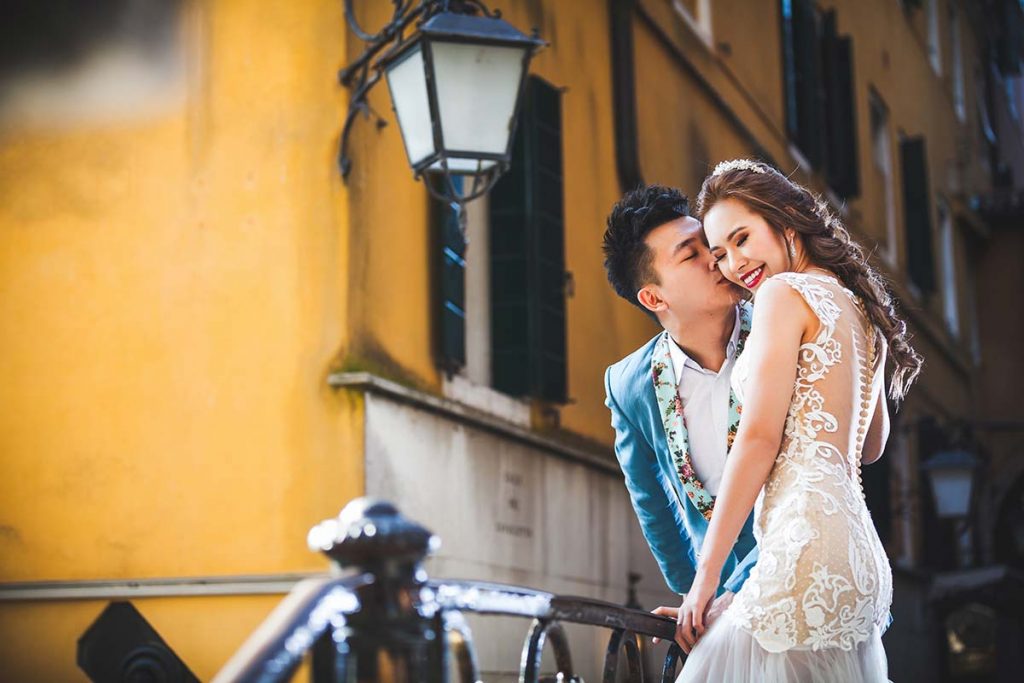 Traditional ride with gondola for pre wedding photo shooting in Venice
You should absolutely try a traditional ride with gondola. Based on the choosen photoshoot package we recommand the short tour for a half an hour or the long one of one hour.  We started at Orselo point, then  go to Realto Bridge and return. It was a spotless sunny day of April. To make an idea of how the light will be in your pictures, this was done around 18:00 a clock, when the sun is still up but creates smooth shadows on the buildings.
An opera mask is an interesting accessory for a Venice photo shoot. You can buy it from any souvenir shop from Venice and is not very expensive. It gracefully complements the romantic venetian mood  in the pictures.
Few days before the photo shoot we were thinking how to organize the photographic tour and what route to choose. The best conclusion was, that after the gondola ride, just to move around Sant Mark Square  and to arrive at the view over de sea around sunset hour.
Change the angle and seems a completely different place. A wall is a very good background to evidentiate our couple.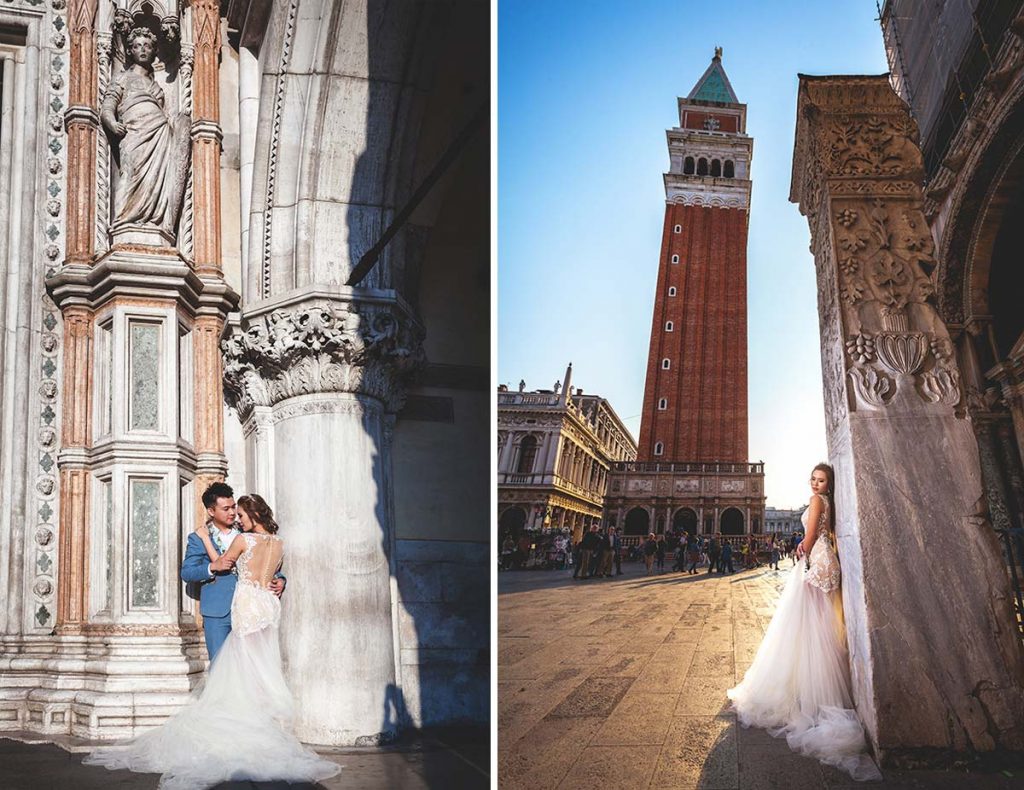 I love this pose!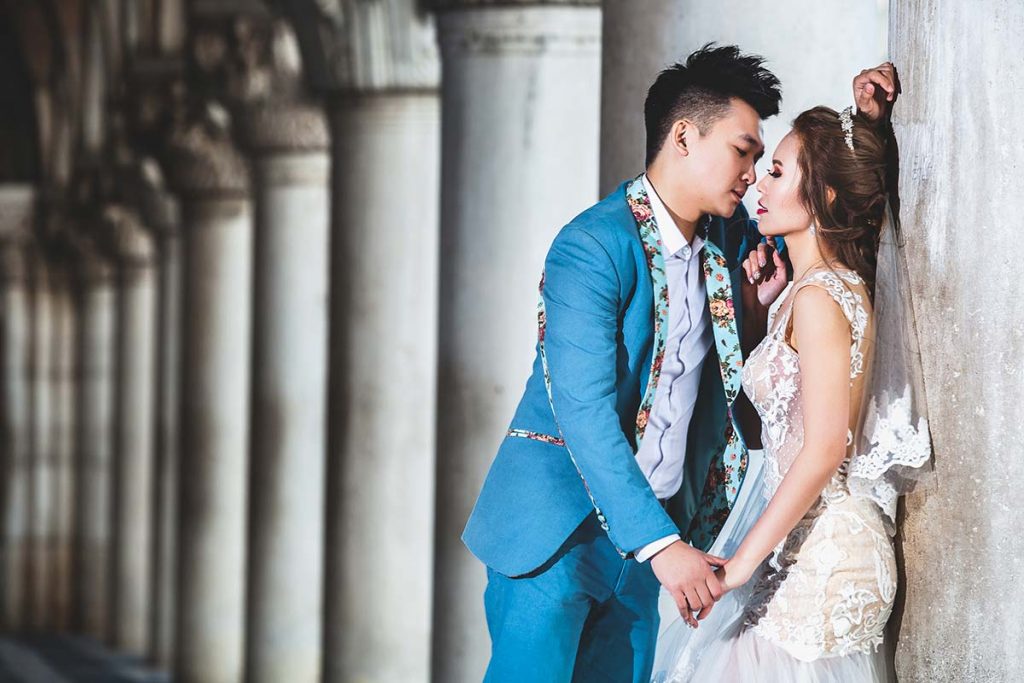 Arrived at the gondola point exactly at the sunset! The orientation of the city doesn't allow you to see the sun, but still, the sweet light over the oposite buildings is amazing.If you want to make the pictures with direct sun, you should schedule the photo shoot in the early morning at the sunrise. It definetly worth it! Not only that you will have a great light, but also the  morning is the only moment when the major touristic points in Venice are not so full of people.
In the evening, the restaurants and cafeteria from Sant Mark Square make live classical music. The athmosphere is beautiful!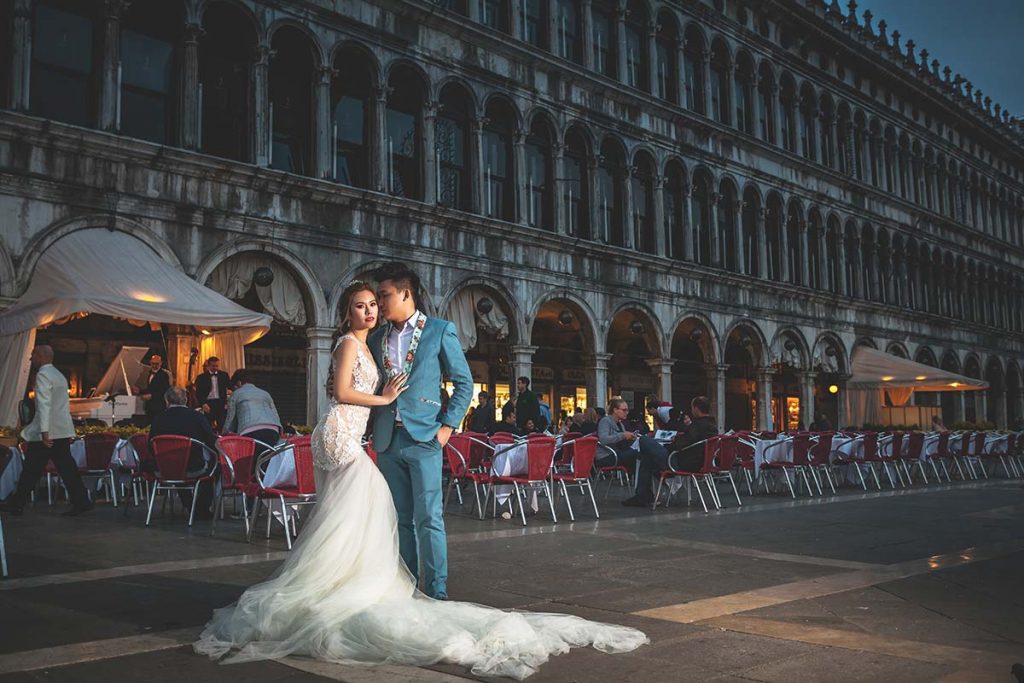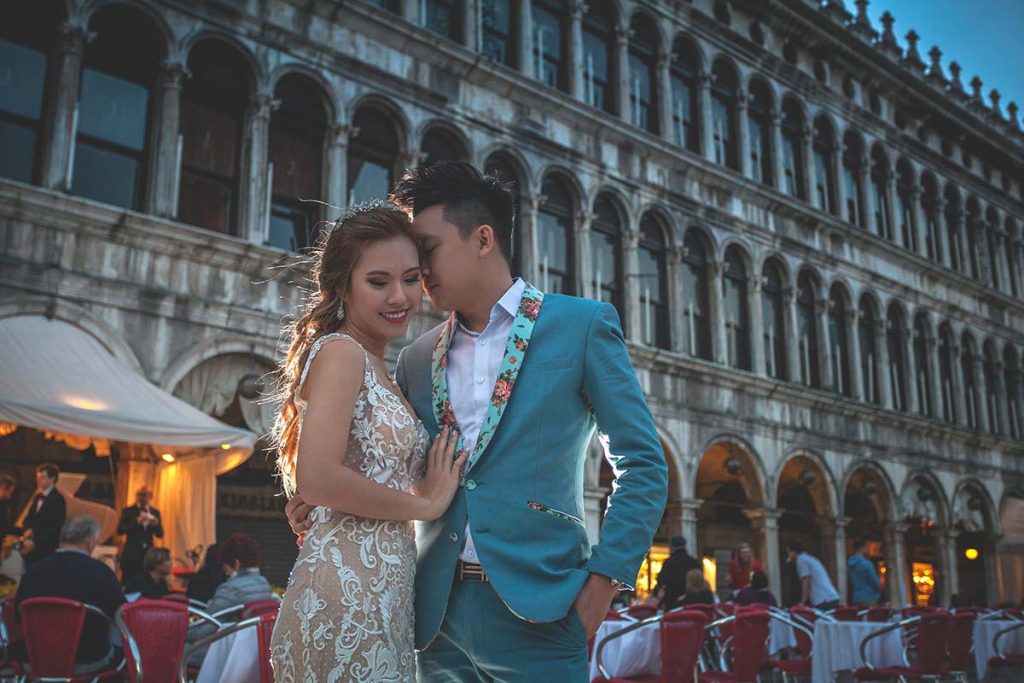 Pre wedding photo shooting in Venice, by night
In case you ever wondered, the lights in Piazza San Marco turn on at 20:00 🙂 If you make a wedding photo shoot in the evening don't miss it, it looks too great!